Learn stand-up comedy in Melbourne WITH Greg Fleet
---
252 Park St,
South Melbourne
---
---
---
Learn stand-up comedy in Melbourne over 5-evenings from Sunday to Thursday, 6.30 pm to 9.30 pm, from August 20 to 24, 2022. You'll get the SHKK comedy manual, our complementary online course, video of your graduating performance, professional headshots for future marketing, and loads of one-on-one coaching from our resident comedy coach, Brad Oakes, our returning alumnus, Kru Harale, and guest comedy coach, Greg Fleet.
---
PRICES:
Student and Concession – $500 + GST
Early Bird – $600 + GST (before August 13 only)
Bring-a-Mate-Rate – $900 + GST (2 people)
Full Fee – $800 + GST
Pre-Course: Online course access
Access the entire School of Hard Knock Knocks stand-up comedy curriculum ahead of the face-to-face course via your phone or PC. Narrated by the legendary comedian Greg Fleet, this online course includes videos examples, audio advice, activities and feedback to ensure you don't feel like a noob on day one. Learn more by clicking here.
Day 1: Sunday - The Basics, Finding Yourself, Joke Structure and Preparation
Get introduced to the basics of stand-up comedy and the jargon of the comedic industry before jumping into the deep end with your very own mini comedy set. Then, it's time to learn the 'Normal-Normal-Twist' technique, and developing your own original jokes, before trialling them on stage and giving them a polish.
Day 2: Monday - Generating Content and Building Confidence

Learn to gauge your audience and how to recognise and manage taboo topics while learning confidence building/fear smashing techniques. You'll also get input on your set from our guest comedian, Greg Fleet, meet the other Hard Knock Knocks alumni and develop more of your original material.
Day 3: Tuesday - Delivery and Controlling a Room

Learn to write a strong open to your comedy set. Tonight students will also have the opportunity to refine some of their own writing, and learn about the open mic circuit, the Australian comedy festivals, such as Adelaide Fringe and Melbourne International Comedy Festivals, as well as life after graduation, with a visit from our returning alumnus, Kru Harale
Day 4: Wednesday - The Close, Graduation Preparation and Photo Headshots
Closing your set strong is this night's goal, as well as putting the extra polish on tomorrow night's graduation performance. You'll also model for professional headshots, that are vital for comedy event posters or even acting jobs!
Day 5: Thursday - Graduation Night and Performance

The moment you have been working toward! Perform your stand-up comedy routine in front of family and friends, conquer your fears and perform alongside three professional stand-up comedians. Watch previous graduation videos by clicking here.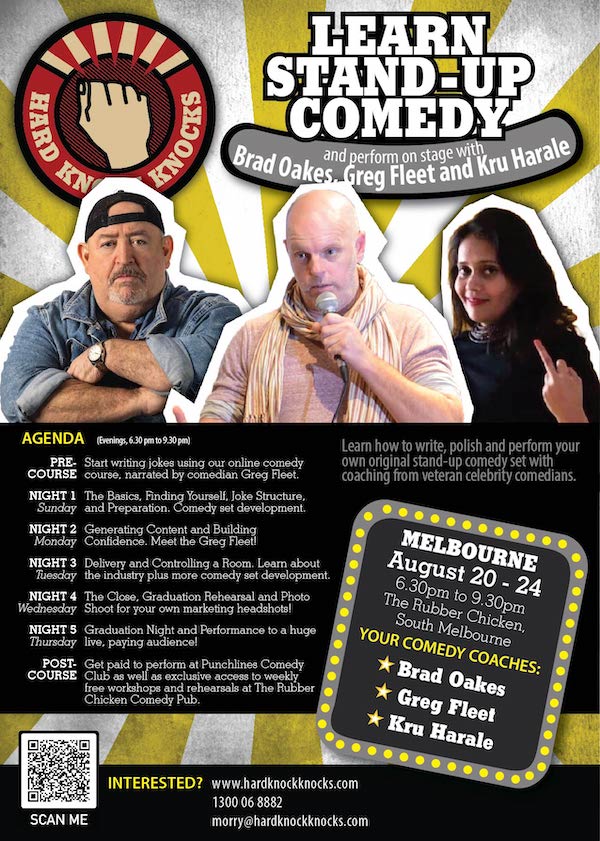 ---
Thomas Galtieri
September 30, 2023.
Awesome course, learned so much about comedy in a short time. Everyone was knowledgeable and accommodating. Great place, great vibes and all around fun experience. Thanks!
Alec Fry "Frydentity" Comedy
September 6, 2023.
The HKKCS is excellent for anyone who wants to learn stand-up comedy, and even experienced comedians too. Morry & Brad help you to get started, or to get better! Such a great environment to find your style, experiment and support & be supported by like minded people. If I hadn't recently done it ...I'd be rushing out to sign-up, asap! (but I can live vicariously through you ...so go do it, and let me read your posts)
Josh Vinen
August 28, 2023.
Highly recommend The School of Hard Knock Knocks Scariest thing I've ever done but with the leadership of Brad and Morry and the hilarious other students we all managed to have a laugh and get a laugh. Also shout out to Gregg fleet and Kru for being hilarious and sharing their knowledge and wisdom. Anyone thinking about doing the course… just do it!
Ed Thomas
August 27, 2023.
Cannot recommend this experience enough. There's no better thrill than having something you've worked hard on come to fruition in front of a crowd. Great coaches, supportive environment, laughs - plenty
Gemma Davidson
August 26, 2023.
This is a wonderful course to get your confidence up on stage. Morry and Brad were lovely to work with and it's a very supportive environment. Would recommend to anyone wanting to try stand up or just become more confident with public speaking.
Really enjoyed the course and would definitely recommend it to anyone who is interested in doing stand up for the first time. The content is informative and interesting and all of the coaches really do have a world of knowledge to share. Overall great experience
Rafferty Dall
August 25, 2023.
I'm a DJ and my first ever full MC gig, I completely bombed with a flat joke. This course has given me the confidence/skills I need for future times on the mic. It has also helped me realise that I am funny and it's unlocked a love a stand-up that I will continue for many years. Thank you guys!
Adele Moleta
July 31, 2023.
Learnt heaps and it gave me the confidence and push to perform my first stand up comedy show. Feel very grateful that this course exists.
went from having never done comedy before to feeling comfortable delivering original jokes to a packed room after only 5 days. highly recommend for anyone who is wanting to challenge themselves in a way that is also completely safe - not to mention great fun!
Alfonso Gosal
July 28, 2023.
A nice group of mentors. Definetely a lot of content one was given, but all mentors were able to provide great directions to fit each students capabilities 10/10
---
Brad Oakes - Resident Comedy Coach
Comedian Brad Oakes is considered by many to be comedy royalty, and has over 30 years of stand-up comedy experience. Brad has performed on Australian classic comedy shows, which include The Comedy Company, Jimeoin, Full Frontal, and Hey Hey It's Saturday. Brad also featured in the School of Hard Knock Knocks' comedy-drama, '
Is This Thing On?
' Brad will also MC at the graduation, ensuring the audience is hot before the graduates perform. Learn more about Brad  by 
clicking here
.
Greg Fleet - Celebrity Guest Comedian
Comedian Greg Fleet is Australia's bad boy of comedy. On stage and off, 'Fleety' has made a name for himself for pushing the boundaries and living life to its fullest. TV, movies, theatre, breakfast radio, and twenty-nine Melbourne International Comedy Festival shows later, it's hard to imagine how Greg had time for his now infamous drug addiction. But he did, because Greg Fleet is no ordinary comedian. Some might argue that in a sick way this curse made him even funnier.
Kru Harale – Returning Alumnus
At each course we invite a previous graduate (alumni) to perform at the Hard Knock Knocks graduation. In August it's Kru Harale who'll also be providing insights into the open mic comedy circuit, how to network within the comedy industry, and comedy advice post-graduation. So not only will you learn stand-up comedy in Melbourne, you'll start to build a network of comedians who are already performing in the comedy circuit.
---
Start your comedy journey today.
We are available to chat, any day of the week, via the chat button below or phone. Otherwise, we are contactable by email.