The Melbourne International Comedy Festival (MICF) is the largest stand-alone comedy festival in the world, and the second-largest international comedy festival on the planet. Typically running for four weeks from March through April, it plays host to thousands of the best local and international comedians.
A good chunk of those comedians are alumni from our very own Hard Knock Knocks stand-up comedy course. Highlighted here are just seven of the shows coming up this year that are being run by our alumni.
Anxious – Tim Barrot (Cavie), Steve Ock and Nick Trapani
With Anxious, we have a show where all three acts are graduates of the Hard Knock Knocks stand-up comedy course – albeit at different times. Steve Ock (who goes by "Ock") is an absolute comedy junkie – from the first time he heard Col Elliott do Hey you bloody mug to hearing Eddie Murphy's Delirious, he was hooked. Having done the comedy course in 2021, he lives to make light of the craziness of this world, with a self-deprecating, observational style – and no filter.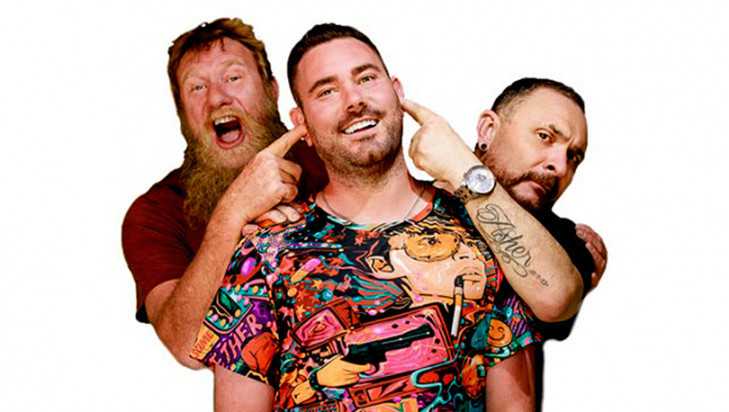 Tim Barrot, who goes by his stage name Caveman or "Cavie", did the course in 2020. Unlike Ock, he never watched much stand-up until he got into it himself, walking his own path. Having felt comfortable as a sports commentator, Cavie wanted to challenge himself, and found stand-up comedy. On stage, he's a larrikin, a bloke you want to have a beer with. Anxious is his first full show, having previously done spots at The Melbourne International Comedy Festival and Adelaide Fringe.
And finally, Nick Trapani's humour is dark and ugly, in contrast to his good looks and gorgeous smile. Nick likes to push the boundaries of social norms, making touchy subjects funny through layers of truth. Nick completed the course in 2020.
These are three blokes who, under normal circumstances, would not hang out. However, they became good mates through comedy, Ock and Nick having met at an open mic night and later meeting Cavie. All three share a history of varying degrees of mental health struggles – hence Anxious.
This 55-minute show runs on March 31, April 1 and April 2 at The Rubber Chicken in South Melbourne.
3rd Life Crisis – Lisa Gatenby and Jeremy Dooley
In 3rd Life Crisis, we have another show run exclusively by Hard Knock Knocks alumni – this time as a pair. Lisa Gatenby and Jeremy Dooley are two comedians who refuse to grow up. Jeremy jointly won the 2002 Class Clowns award, while Lisa's expertise in toys and telling children's stories is impeccable. Their show, 3rd Life Crisis, explores the struggles of entering their 30s, when all their friends seem to be growing up before them.
Growing up, Lisa's favourites included Robin Williams, Jim Carrey, and Lano & Woodley – which might explain her high-energy enthusiasm on stage. With aspirations to be a clown or perform in musicals, comedy was more of a bucket list item to tick. But after completing the course in October 2018 (Googling "how do I do comedy?"), she became addicted and has since performed across Australia and the US.
If that doesn't demonstrate her addiction to comedy, she even has a second show coming up at the festival! Performing alongside Aarti Vincent & Pradeepa Timmermans, Miss-Understanding explores, as the title suggests, misunderstandings – based on the cultural confusion and vastly different life experiences of these three women.
These will be Lisa's first self-produced shows, having previously been on various line-up shows at the festival.
Jeremy, meanwhile, did a full season at the Melbourne International Comedy Festival at just 17 years of age – in the same duo with which he won the 2002 Class Clowns award. He later did the Hard Knock Knocks course in early 2021, before gigging around Victoria. Only COVID could stop him from touring interstate. This culminated in being part of the Hard Knock Knocks' "Best of" show for the Melbourne International Comedy Festival 2021, before Lisa asked him around September whether he'd want to do a split show with her.
His influences are a lot more varied, ranging from the surreal, like the Mighty Boosh, to the storytelling of Tom Segura, to the clean fun of Nate Bargatze. The first stand-up comedy sets Jeremy remembers seeing were Will Anderson on the 90's show Recovery, along with Lano & Woodley on Hey Hey It's Saturday.
Together with Lisa, Jeremy is now keen to explore that stage in life where a good chunk of his mates seem to have their lives sorted, while he just wants to play Xbox, get drunk, and waste more time and money.
This 50-minute show runs on from 19 – 24 April at Lantern Lounge.
Still Got It? – Gavin Sempel
Another alumnus performing at the Lantern Lounge is Gavin Sempel.
Gavin completed the very first edition of the Hard Knock Knocks course, all the way back in 2016. He has since gone on to become national runner-up at RAW comedy in 2018, made the semi-finals at the 2019 edition of Australia's got Talent, and appeared in a 2020 episode of Black Comedy, an indigenous-Australian-produced sketch comedy show.
His greatest influence has been Bill Burr. Gavin loves his storytelling style, though recently he has also found inspiration from Shane Gillis' joke writing.
In his latest solo show, Still Got It?, Gavin explores what it was like moving back home to the countryside during a pandemic. He questioned whether comedy would return or let alone whether he still had it, now that we're free. Continuing to bring in stories from his childhood, this is Gavin's fifth Melbourne International Comedy Festival show, and his second solo hour. He had previously done half hour shows in 2017 and 2018, a split show (Gippy Boys) in 2019, and an hour in 2021 with Phillip.
This 60-minute show runs from 30 March – 9 April, 8 – 9pm, at Bard's Apothecary.
Die Already – Matt O'Neill, Izzy Ali and Mimi Shaheen
Having graduated in the same original cohort as Gavin Sempel, UK-born comedian Matt O'Neill has had a similarly upward trajectory. The very first day of the course, performing two minutes of original material in front of his peers, was a breakthrough moment for him. He was incredibly nervous and shy, and while he says this hasn't changed, Matt now makes this far less obvious on stage.
Matt's influences are largely American, with Sam Kinison, Rory Scovel, and Dave Atell being some of his favourites, as well as Laurel & Hardy, Abbott & Costello, and Tommy Cooper – plus Stuart Lee from the UK. As a big believer in just being yourself, however, he doesn't consider himself to be like any of them. Except maybe Oliver Hardy in size, though he's taken up boxing lessons to change that.
Die Already is Matt's first time registering a full MICF show, having previously partaken in some showcases since 2017. Performing with Izzy Ali and Mimi Shaheen, two great Victoria-based comics, Die Already is being marketed as a Grindhouse horror film, with the tagline "3 Comedians who just won't die!" With themed lighting and sound, cut-out masks, and vomit bags for people who laugh themselves sick, you know this is a special show. While the theme is scary, the content is pure hilarity: Die Already is just stand-up, presenting three comedians with three very different styles.
This 60-minute show runs from March 31 – April 9, at the Colonial Hotel.
It's a Mug's Game – Lisa Doherty, Brad Oakes and Doug Chappel
Lisa Doherty is one of that Hard Knock Knocks' more recent graduates, having completed the course in January of 2021. Inspired by the likes of Kitty Flanagan, Celia Pacquola, Tommy Little, Carl Barron, and Michael McIntyre, she learned a lot about herself during the 5-day course. The in-and-out lockdowns since then have made every new gig just as scary as the last, but Lisa bravely faces each challenge, finding them interesting and entertaining in their own right.
Lisa ended up on stage at The Rubber Chicken in 2021 as part of last year's "Best of" MICF show, mere months after graduating. This was a great experience for her a new comedian and she was stoked to get the chance to be part of it.
It's a Mugs Game is Lisa's first full show, however, together with Brad Oakes and Doug Chappel, two veteran comedians who frequently mentor newbies as part of our Hard Knock Knocks course. With 33 and 25 years of comedy experience respectively, Brad and Doug have heaps to teach, but more importantly, know how to make you laugh.
Doug and Lisa share a commonality of growing up in rough areas, while Brad's Hawthorn upbringing wasn't quite as rough, but no less hilarious when he tells it. Good mates off-stage, these three have very different comedic styles that they bring together for It's a Mugs Game.
This 60-minute show runs from 30 March to 14 April at the Rubber Chicken.
Bad Mother – Kate Hanley Corley
Kate's path to Hard Knock Knocks is a bit different. With a fair bit of character comedy experience under her belt, she decided to do the Hard Knock Knocks course to explore being herself on-stage. She is part of our most recent cohort, having just graduated in January of 2022!
Inspired by Sarah Silverman, Amy Schumer, Anne Edmonds, Steve Martin, and Flight of the Conchordes, Kate has been performing around Australia since 2013. Her quirky, absurdist, and musical comedy won her fans from Newtown to Newfoundland.
Leaving behind previous masks like Fanny Bouffante, South Yarra Mum, and Annabelle, she will be herself in Bad Mother, the tale of a woman, wife, and mother on the verge of a nervous breakdance.
This 50-minute show runs from March 30 – April 10, and takes place at the Cooper's Inn.
Incoming – Jarryd Goundrey
Jarryd Goundrey spent the first half of his adult life as an Infantry soldier in the Army. While that sounds serious, he met many funny people there, since wit and humour were often the only things keeping them together. He followed that up with years around the Melbourne and even national comedy circuit, culminating in Incoming, his debut Comedy Festival show.
Jarryd's professional influences include old-school British comedies like Fawlty Towers and Mr. Bean, while old school friends and his brother influenced him comedically. Growing up in a funny family, he discovered the bonding quality of humour.
By around 2017, Jarryd had amassed around 60 gigs, at which point he spotted a sponsored ad for Hard Knock Knocks featuring Steve Hughes. As his favourite Aussie comedian, he couldn't resist signing up for the course, where he made friends with many great people.
Hundreds of gigs later, Jarryd is about to commence his first Festival tour with his own solo hour! This makes him the only comic on this list, together with Gavin, with a full solo hour. He feels excited and ready to take the leap. Incoming is about his life and experience as a former combat soldier in the Army.
This 60-minute show runs from April 11 – 23 at Bard's Apothecary.
---
If you dream of one day performing stand-up comedy at a world-renowned event like the MICF, take your first step and book your place at the next Hard Knock Knocks course.